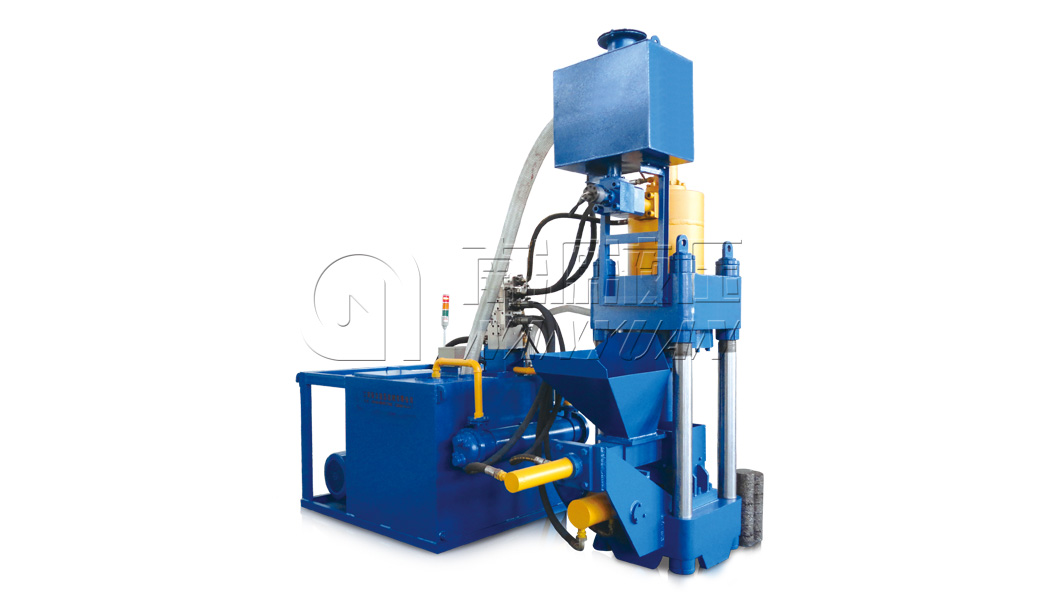 Function
It is suitable for compacting steel chips, cast iron chips, copper chips and aluminum chips into high density cylindrical cladding blocks for recycling and smelting, especially casting iron chips can replace cast iron after compacting.
Features
1. Hydraulic drive, high working efficiency.
2. Smooth operation, only simple equipment foundation.
3. Adopt PLC control, can choose manual or automatic operation.
Technical Specification
| | | | | | |
| --- | --- | --- | --- | --- | --- |
| Model | Cyl.Force(ton) | Press Mould(mm) | Briquet Size(mm) | Production Rate(kg/hr) | Power(kw) |
| Y83W-630 | 630 | Φ200×550 | Φ200×(160~200) | 4500~5500 | 90 |
| Y83W-1000 | 1000 | Φ240×600 | Φ240×(190~240) | 9000~11000 | 225 |
| Y83W-1250 | 1250 | Φ300×700 | Φ300×(220~270) | 15000~18000 | 320 |
Technical Specification
Model
Cyl.Force(ton)
Press Mould(mm)
Briquet Size(mm)
Production Rate(kg/hr)
Power(kw)
Y83-250
250
Φ110×180
Φ110×(50~70)
600~800
22
Φ120×180
Φ120×(50~70)
Y83-315
315
Φ120×180
Φ120×(50~70)
800~1100
30
Φ140×180
Φ140×(50~70)
Y83-400
400
Φ140×300
Φ140×(70~100)
1300~1600
37
Φ160×300
Φ160×(70~100)
Y83-500
500
Φ160×300
Φ160×(70~100)
1700~2300
45
Φ180×300
Φ180×(70~100)
Y83-630
630
Φ180×400
Φ180×(100~140)
2800~3500
74
Φ200×400
Φ200×(100~140)