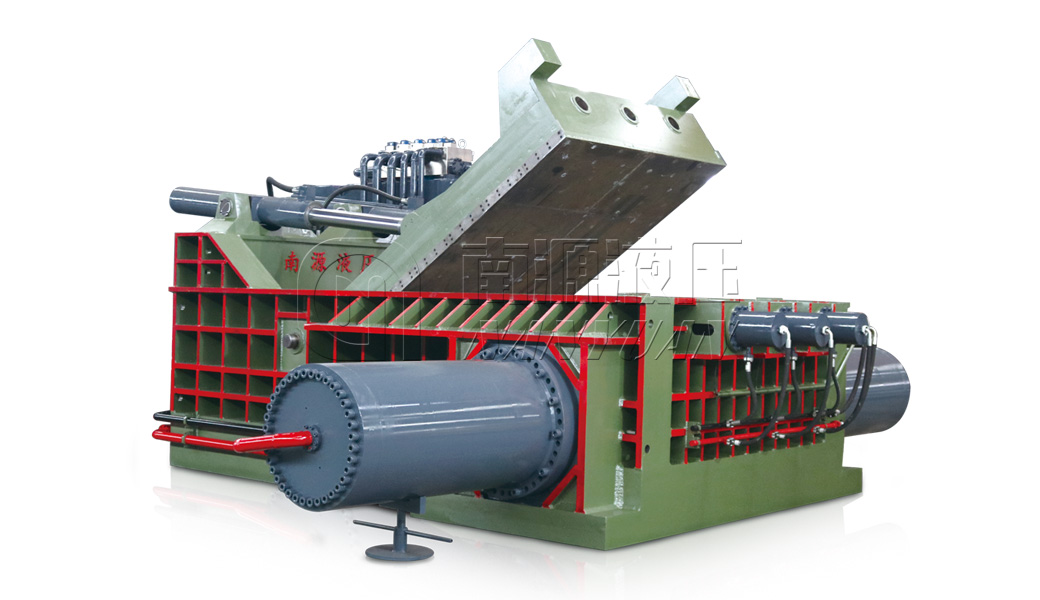 Function
Used for the thickness of less than 6mm of all kinds of metal waste (scrap, shavings, scrap steel, scrap aluminum, scrap copper, waste stainless steel) extrusion into cuboid, octagon body, cylinder and other shapes of qualified charge. It is suitable for scrap steel processing and distribution center (base), scrap car dismantling and remanufacturing enterprises, steel and non-ferrous metal industry, etc.
Features
1. All models are driven by hydraulic pressure, manual operation or PLC automatic control can be selected.
2. The way to get out of the bag is to turn over the bag, push the bag on the side, push the bag forward, take the bag manually, etc.
3. It can be equipped with diesel engine as standby power supply.
Technical Specification
Model
Main Cyl.Force(ton)
Press Box Size(L×W×H/mm)
Bale Size(W×H/mm)
Power(kw)
Y81/F-125
125
1200×700×600
300×300
15
Y81/F-125
125
1400×800×300
300

×300

22
Y81/F-125
125
1400×900×600
300 octagon
22
Y81/F-160A
160
1600×1000

×800

400

×400

22
Y81/F-160B
160
1600×1200

×800

400

×400

37
Y81/F-200A
200
1600×1200

×800

400

×400

37
Y81/F-200B
200
1800×1400

×800

450

×450

2

×22

Y81/F-250
250
2000×1400

×900

500

×500

2

×22

Y81/F-250
250
2500×2000

×1000

500

×500

2

×30

Y81/F-250
250
2500×2000

×1200

600

×600

2

×30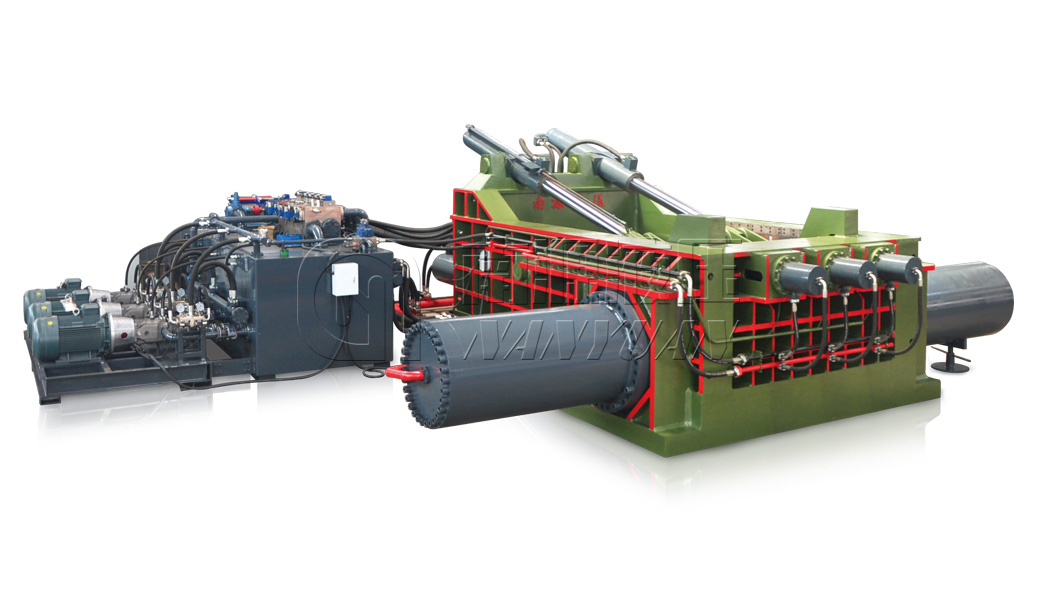 Technical Specification
| | | | | |
| --- | --- | --- | --- | --- |
| Model | Main Cyl.Force(ton) | Press Box Size(L×W×H/mm) | Bale Size(W×H/mm) | Power(kw) |
| Y81/K-250 | 250 | 2500×2000×1000 | 500×500 | 2×30 |
| Y81/K-315 | 315 | 2500×2000×1200 | 500×500/600×600 | 2×45 |
| Y81/K-315 | 315 | 3500×3000×1300 | 700×700 | 2×45 |
| Y81/K-400 | 400 | 2500×2000×1200 | 600×600 | 2×45 |
| Y81/K-400B | 400 | 3500×3000×1300 | 700×700 | 3×45 |
| Y81/K-500 | 500 | 2500×2000×1200 | 600×600 | 2×45 |
| Y81/K-500B | 500 | 3500×3000×1300 | 700×700 | 3×45 |
| Y81/K-630X | 630 | 2500×2000×1200 | 600×600 | 3×45 |
| Y81/K-630A | 630 | 3000×2500×1200 | 600×600 | 3×45 |
| Y81/K-630B | 630 | 3500×3000×1300 | 700×700 | 3×45 |
| Y81/K-800 | 800 | 3500×3000×1300 | 700×700 | 4×45 |
| Y81/K-1000A | 1000 | 3000×2500×1400 | 600×600 | 4×45 |
| Y81/K-1000B | 1000 | 3500×3000×1400 | 700×700 | 5×45 |
| Y81/K-1300A | 1300 | 3000×2500×1400 | 600×600 | 3×90 |
| Y81/K-1300B | 1300 | 3500×3000×1400 | 700×700 | 3×90 |
| Y81/K-1500A | 1500 | 3500×3000×1500 | 700×700 | 4×90 |
| Y81/K-1500B | 1500 | 4000×3000×1500 | 700×700 | 4×90 |
| Y81/K-2000 | 2000 | 4000×3000×1600 | 700×700/800×800 | 5×90 |
Technical Specification
| | | | | |
| --- | --- | --- | --- | --- |
| Model | Main Cyl.Force(ton) | Press Box Size(L×W×H/mm) | Bale Size(W×H/mm) | Power(kw) |
| Y81/Q-135B | 135 | 1300×600×600 | 600×240 | Front package block |
| Y81/Q-200 | 200 | 1400×700×600 | 700×280 | Front package block |
| Y81/Q-315 | 315 | 1600×800×600 | 800×280 | Front package block |
Technical Specification
| | | | | |
| --- | --- | --- | --- | --- |
| Model | Main Cyl.Force(ton) | Press Box Size(L×W×H/mm) | Bale Size(W×H/mm) | Power(kw) |
| Y81/F-315 | 315 | 2500×2000×1200 | 600×600 | 2×45 |
| Y81/F-315 | 315 | 3000×2500×1200 | 600×600 | 2×45 |
| Y81/F-315 | 315 | 3500×3000×1300 | 600×600/700×700 | 2×45 |
| Y81/F-400 | 400 | 3500×3000×1300 | 700×700 | 3×45 |
| Y81/F-400l | 400 | 5000×2200×1300 | 500×500 | 3×45 |
| Y81/F-500 | 500 | 3000×2500×1300 | 700×700 | 3×45 |
| Y81/F-630 | 630 | 4000×3000×1300 | 700×700 | 3×45 |