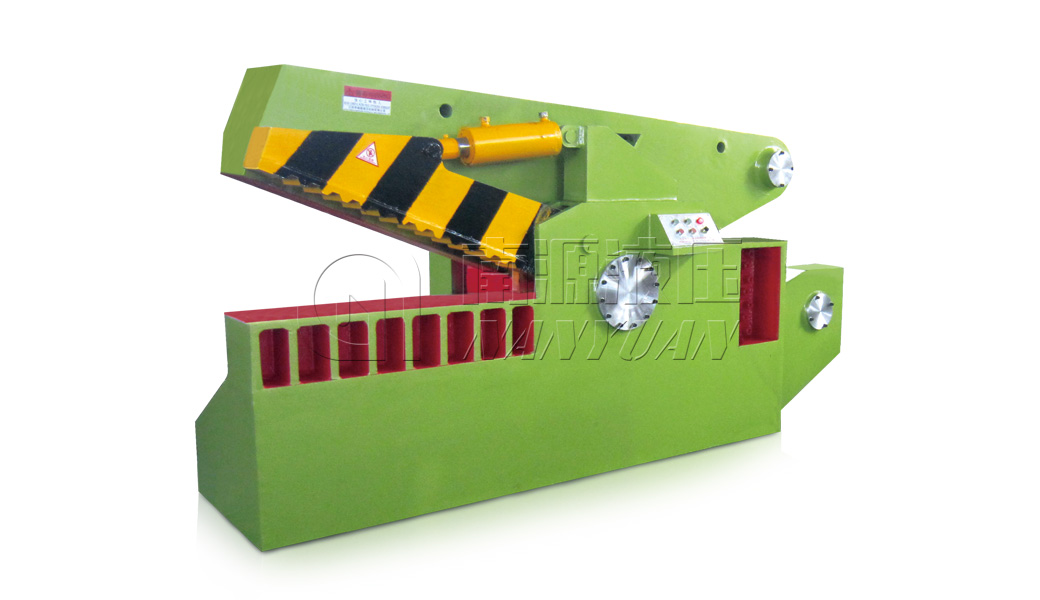 Function
It is suitable for cold shearing of metal profiles and metal structural parts with various cross-section shapes to process them into qualified charge. It is suitable for steel industry, non-ferrous metal industry, scrap steel processing and distribution center (base), renewable resource processing enterprises and scrap car dismantling enterprises.
Features
1. Mechanical, electrical and hydraulic integrated control; It can be started and stopped at any position, easy to realize overload protection; It can be equipped with diesel engine as backup power supply.
2. According to the use of the need to choose a single, continuous operation.
3. The installation of the equipment without anchor bolt fixed, convenient production or equipment layout adjustment.
Technical Specification
| | | | | | |
| --- | --- | --- | --- | --- | --- |
| Model | Max. Shear Force (ton) | Blade length (mm) | Max.Cutting Size (kw) | Shearing Frequency (times/) | Motor (kw) |
| Q43-63 | 63 | 600/800 | 30×30φ40 | 10-12 | 7.5 |
| Q43-120 | 120 | 600/800 | 50×50φ55 | 10-12 | 15 |
| Q43-160 | 160 | 700/800 | 55×55φ63 | 10-12 | 18.5 |
| Q43-200 | 200 | 800/1000 | 65×65φ70 | 10-12 | 22 |
| Q43-250 | 250 | 1000/1200 | 70×70φ80 | 10-12 | 2×15 |
| Q43-315 | 315 | 1000/1200 | 75×75φ85 | 10-12 | 2×18.5 |
| Q43-400 | 400 | 1500 | 90×90φ100 | 8-11 | 2×22 |
| Q43-500 | 500 | 1500 | 100×100φ110 | 8-11 | 2×30 |
| Q43-630 | 630 | 1600 | 110×110φ120 | 4-8 | 2×37 |